Odiham Parish Council conducts its business through an agreed committee structure which is widely accepted in the sector to allow sufficient time for debate at each meeting and focusses time, skills and experience in relevant areas. The full Council has the power to make all Council decisions in accordance with the Council's adopted Standing Orders and Financial Regulations and delegates some of its business to committees which operate in accordance with adopted Terms of Reference.
Odiham Parish Council currently follows the agreed committee structure below: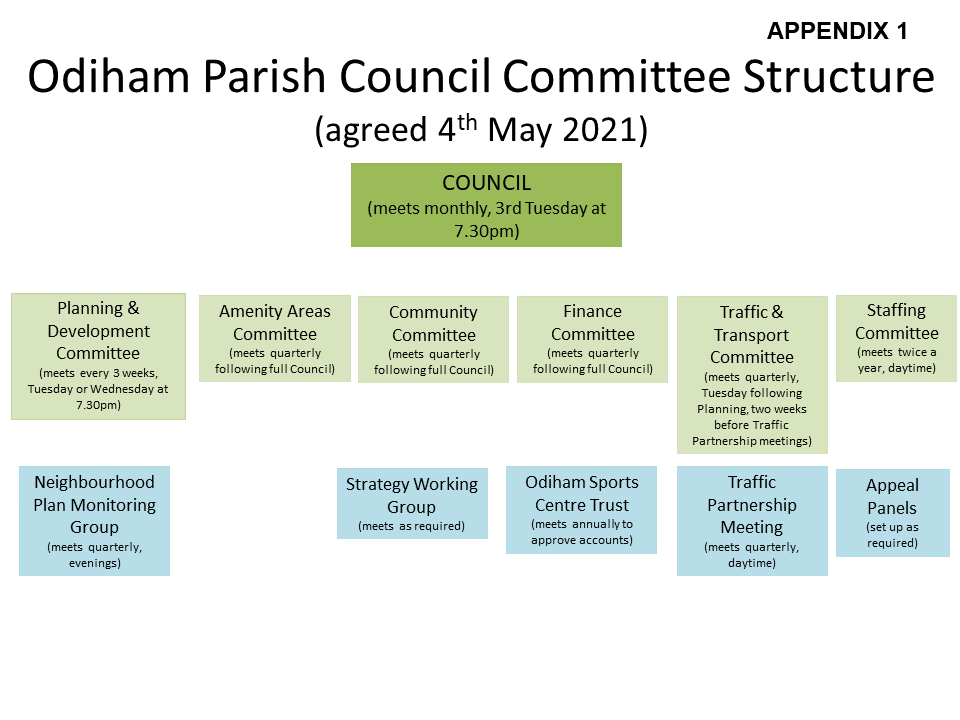 Each meeting agenda pack is published under the meetings, agendas and minutes pages at least 3 clear days before the meeting date.  Copies of the covering agenda pages are also published in the High Street noticeboard opposite the Co-op and in North Warnborough noticeboard opposite North Warnborough Village Hall.
All Council meetings are open to residents to attend unless otherwise stated on the agenda.  Council meetings are normally held in The Parish Room in The Bury but, as the Council has no power to restrict numbers, meetings are currently held electronically via Zoom and joining instructions are shown on each agenda.
In addition to full Council and committees, working groups are regularly set up for specific projects or partnerships.  These are generally task & finish groups which sometimes include community or outside body representatives and do not have decision making powers.  The meetings are not open to members of the public, however, reports or decisions from the meetings are usually reported at a full Council or committee meeting.