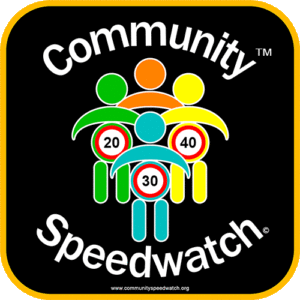 Odiham & North Warnborough Community Speedwatch launched in May 2021 with a small group of dedicated volunteers and with support from our local PCSO and Hampshire Police.
Since the launch there have been planned weekly Speedwatch sessions.  Each session lasts for about an hour and takes place on roads that have been risk assessed by the Police to make sure the identified Speedwatch standing area is safe for volunteers, pedestrians and drivers.
To keep everyone safe there must be a minimum of three volunteers at each session and each volunteer has specific data to record on the data sheets. At the end of the session one designated volunteer collates the individual data sheets to compile and submit to the Police for them to verify. If a driver has been monitored travelling above 35mph on a 30mph road the Police will send a letter to the driver alerting them to the fact they were driving too fast.  If the same driver has already received a letter from the Odiham Speedwatch group or any other Hampshire Community Speedwatch group, a second letter is sent. The third time the driver is observed driving too fast they will receive a visit from the Police.
Monthly Speedwatch data is sent to all the community Speedwatch groups in Hampshire to see the results of their monitoring. Currently the Parish Speedwatch monitoring takes place on the Farnham Road, the Hook Road and Dunley's Hill.
Odiham Speedwatch Results May 2021- January 2022
Total number
of sessions
Total number of
vehicles observed
travelling above the
road speed
Number of 1st time letters sent
Number of 2nd time letters sent
17
200
154
16
Drivers still travel at speeds too fast through the Parish but through continued Speedwatch monitoring, in addition to other speed reduction initiatives, hopefully drivers will start to reduce the speed they travel at while driving through Odiham and North Warnborough.
If you would like to support Odiham & North Warnborough Community Speedwatch and become a volunteer please email
[email protected] for more information.